Mahesh Babu gave a glimpse of the teaser to the late Major Sandeep Annikrishnan
Southern superstar Mahesh Babu has shared a glimpse of the teaser of the 26/11 protagonist story 'Major' being made under the banner of his production.
Mahesh Babu, the superstar of the South Indian film world, is currently headlining his two films 'Sarkaru Bhari Pata' and 'Major'. Fans of actor Adivi Shesh (Adi Shesh) are eagerly waiting for their films. Mahesh Babu has already shown a glimpse of his character in the upcoming film 'Sarkaru Bhari Pata' and now he has shared a glimpse of 'Major' and gifted it to the fans. Recently, Mahesh showed a few seconds of 'Major Teaser' on his social media account. The actor has released the teaser of the film and paid homage to Major Sandeep Unnikrishnan who was martyred on 26/11.
Actor Adi Shesh shared a teaser of this teaser as well as an emotional post where he wrote, "This is a small glimpse of 'Major', this film will bring this great war story to life on screen." Watch this video. "In this few seconds clip, Mahesh Babu is seen alone in the role of Army Major.
The film will be released on July 2, 2021The actor has also announced the release date of the full teaser of 'Major' along with the teaser. The full teaser of the film, co-produced by Mahesh Babu, will be released on March 22, 2021. The movie will be released in theaters on July 2, 2021. Mahesh Babu has already given this information. Major Mahesh Babu is the first film of his production.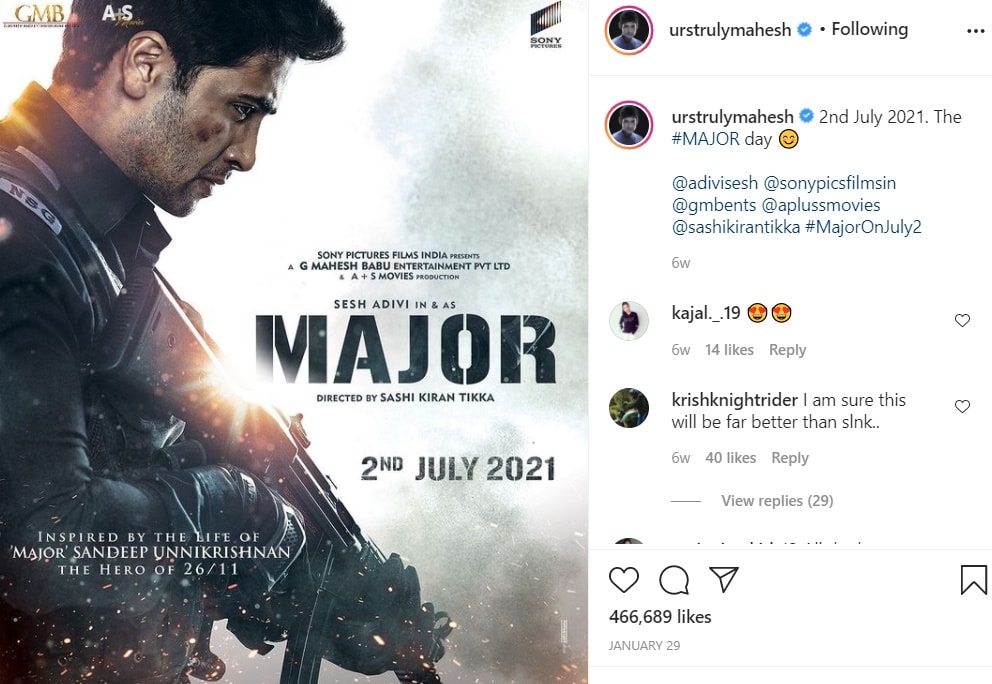 In Hindi and Telugu films, Adivi Shesh has played the role of 'Major' Unnikrishnan. The first look poster of 'Major' was published in Hindi and Telugu. The film is directed by Shashi Kiran Tikka. Apart from Mahesh Babu, actress Shovita Dhulipala and Sai Manjrekar will also be seen in important roles in 'Major'.
.