Jagjit Singh, the world king of ghazal singing, mentioned his three balances before starting the discussion. 'Voice' which creates magic, amazing and comparative compositions in the selection of ghazals. There is a kind of honesty and embarrassment in the song, which is also present in his life. Everything related to his biography and ghazal journey is available everywhere at this time of media explosion. So here are some different things. It's an old thing from an anecdote, I used to be an art critic in a big newspaper in those days. He was a fan of Jagjit. Jagjit had a concert in town. An article of mine about Jagjit was published in the newspaper that morning, which was organized in the evening
Speaking to the organizers, Jagjit asked GK for an interview. The organizers directly rejected my request, saying, "Jagjit ji will not meet the press in person or in the team." Want to come for coverage? The simple answer is 'get a ticket'. The ticket was probably 500 rupees. I wanted to hear, but if I go for coverage, I can't hear the whole program, I have to run in the middle, so I decided not to go to the concert.
Arriving at the newspaper office in the evening, I told the news editor that I was going to Bharat Bhavan for coverage. He was surprised and said, why don't you do coverage of Jagjit's program. I said I would leave if I could get a ticket. The organizers did not call the press for coverage. He told me to stop for a while. I turned over some phones and got the order, I have to do the coverage of Jagjit's program, I can get it at the ticket gate.
I was taken to the venue and sat next to Dr. Bashir Badar in the first row. I had a good acquaintance with the doctor. It was decided that the whole fun was going on today. Jagjit Singh sings a lot of Bashir Badar's ghazals. It is more fun to sit next to the poet whose famous ghazal is being sung on the stage.
The ceremony began. Jagjit appeared on stage with his team. At first, he introduced his friends and reunited with them. At first he heard a light-hearted ghazal and announced a twenty-minute break. Bashir Badar said, let's meet Jagjit. I said 'Here, at this time? "Will it be possible?" He said, Come on, it's okay. We are back on stage. Jagjit ji arranged a grand gathering there. McDevel's number one bottle was opened. Mr. Bashir Badar is very much to me, so he appreciated Jagjit Singh much more than him during his meeting with him. The icing on the cake is Jagjit My story was printed on them. He met me with great affection, thanking him for his appreciation, which was published in the courtesy article. When the interview came, I said that the organizers refused for the interview. He was shocked and said that no one asked me.
Annoyed, he called the organizer and asked, "Why did you refuse the interview without asking me?" Talk to me again? What the blind want two eyes. I looked at Mr. Bashir Badar with gratitude, there was a green signal in the form of laughter. I came straight to the question. I can't say this with full confidence, but I think Jagjit's only interview during the break of the program will be behind the scenes. After the initial questions, Jagjit came up with one of my questions. Said 'this is a naughty question'.
The question was – 'Whenever Jagjit's ghazal started playing, the audience would guess that now we will hear Jagjit Singh's voice. Jagjit ji objected to the word 'yeast'. Appreciating his feelings, I apologized and asked him to answer. Showing his majesty, he replied very aptly – 'It happens with every great musician, if you listen to the songs composed by Nowshad, it is known from the beginning that the upcoming song is composed by Nowshad. It's the identity of the musician, it's like the melody of his signature. No one will deny that the popularity of Jagjit's ghazals made an important contribution to his mind.
Jagjit Singh
What did his VIP fan Gulzar say about this, Gaur
'One thing, what I want to do for people is they are the author of the problem… .. that essay is very good. The same ghazal and many people have sung, and sung in different ways, but it is a matter of seeing how much rhythm is spread by him or by placing his ghazal with him or on a tabla, it changes how often he changes his clothes.
These are the same people who sat with him while composing. And this versatility is too big, too amazing for Jagjit. Especially when Mirza Ghalib came to work with Jagjit, at that time I know how Ghazal used to come to him and turn around. He would render it in different ways and whenever he wanted, this rendering should be kept. But since Ghalib was composing a specific story because he had a situation, he would choose it himself, which was very nice. I can say that Ghalib has two people who made the biggest contribution in making Ghalib, besides Ghalib, one Jagjit and one Nasiruddin Shah. 'There was a man whose name was not Gulzar and he was Mirza Ghalib, the architect of the Doordarshan serial – he was Gulzar himself.
Here Jagjit is sung, Ghalib's lion is made –
Don't ask me how you are
You see what color I have before you
So it was resolved that Jagjit is an amazing composer, the question here is whether his singing was the best of Mousiki. Babak and Satya Bakta know opinions about this and about Chitra Singh. Who is known to evaluate Jagjit honestly. For the first time, he refused to sing with Jagjit because of 'Awad'. He said – 'I have been appreciating his position from the beginning, I believe it is a marble compound. Her voice grew louder. Even today I believe that 'he is a better composer than a singer, but again ….' I want to come back to my words and say that the way he is singing today is really amazing. '
Come back to our interview.
After the interview ended in a very pleasant atmosphere, I requested him to please let me know your two ghazals that you will present at the beginning of the concert. He looked at me with a fake angry sneeze and said, 'That's not right.' I said, 'Sir, please, it's ten o'clock at night. There are interviews and coverage is reported, write two write-ups. I have to submit two stories by 11.45am. After listening to a couple of ghazals I will leave, the work will also be done by them, but if you tell me, the story will be rich. However, I don't want to leave your concert in the middle, but what to do, the world of newspapers is very stubborn in terms of time.
Surprisingly, he not only sang ghazals to me in the beginning, but also introduced them in the same order. Such a big collaboration is an unforgettable event, until now I was their fan, after that I was murdered. He has proved how easy he is, how kind he is. But for this I would like to thank Jagjit Singh along with Dr. Bashir Badar. It was because of him that Jagjit Singh respected me so much. Bashir Badar's health is very bad nowadays. Soon God bless him soon.
There are some ghazals before the kiss climax.
There was talk of music and singing. Now let's talk about their ghazals.
The world is called a magic toy
If found, the soil is lost, but it is gold (Nida Fazli)
Jagjit has sung many songs for Nida. Nida says about this, 'The relationship between my ghazal and Jagjit Singh's voice is very old, the subject of those days when Ghalib was young.' Nida speaks very deeply in simple language and Jagjit gives it a clear departure
'World …' These lines are so simple that even a common man can understand. Also, there is such a big and deep philosophy here that it attracts the priests of literature. Writing like this is not easy. Nida's poetry is incomparable, so Jagjit's test is also amazing in its selection. This is what makes him a hardy Aziz ghazal singer who rules the hearts of people. Surashan Fakir, Katil Shifai are his early poets. Later, Bashir Badar, Javed Akhtar and Gulzar became his favorite poets. He has composed music for many films including 'Love Song' and 'Earth'. "Touch me on your lips, sing my song" (love song) and "You're smiling so much, hiding your sorrow" (meaning).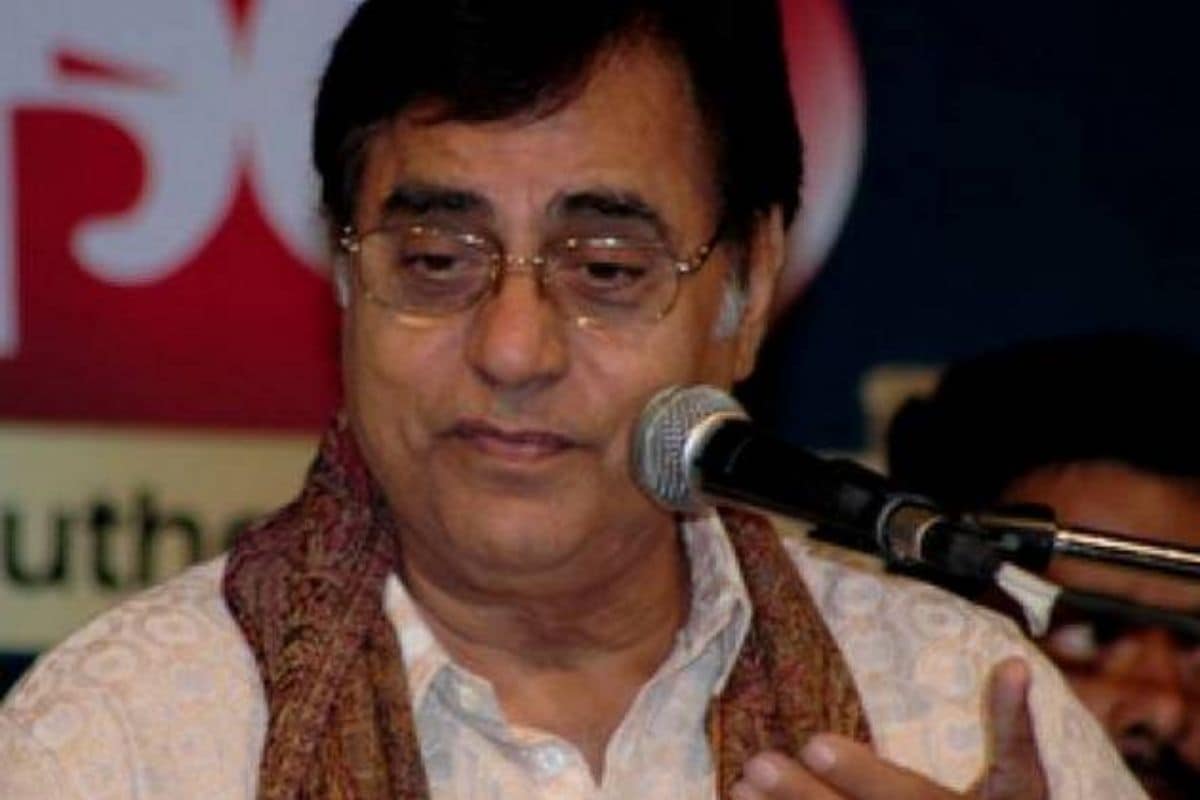 Jagjit Singh bid farewell to the world on October 10, 2011.
At its peak, Saturday was the second day of the concert. I worked as an art critic in a bank as well as in a magazine, this was possible because art events were held in the evenings or at night. Bankers usually took very little time off on Saturday because Saturday was half day. It will be ten o'clock at night. I was getting ready to leave the house when my cell phone rang. The number was unknown. Who asked? The answer was unexpected.
'I'm talking Jagjit'
I greeted him and said, "Sir, tell me."
He said 'What are you doing? '
They did not know about the bank. I said 'Sir nothing, I'm going away from work.'
"You're not going anywhere, come to the hotel now," he said with familiarity and full authority.
I said 'Sir ….'
He interrupted me and said – 'Nothing, just come here' and disconnected the phone. Meanwhile, I'm happy to create a happy mood drawing in the office. His camp was at the only five-star hotel in the city.
Arriving home was a well-known journalist in a large English national newspaper. He gave both of them a long interview. He then left this reporter Mahatrama and motioned for me to stop. As soon as he left, he opened the bottle of beer. One of his companions was also present. Jagjit ji told me, now your presence here is not as a journalist. As a friend. So whatever stays away from the record and doesn't go out of here. I've played it to this day. I am writing this story first. But a lot of things happened to us in art-music as well as literature and fidelity. It is not known when it was half past one. The organizers came a few times at this time, but Jagjit Ji chased them away.
Later, the bar told me to come out quietly. When I went out, an organizer was standing next to the gentleman. He began to say, 'Sir, we have invited the people of our organization here to the family for lunch with Jagjit Singh G. Everyone is waiting for one and a half to two hours. You can't talk to Jagjit Zia, if you want, the party can be over, please. I said inwardly, 'Sir, I'll go now. I forgot how many sharp men I was talking to, he immediately felt,' Why did you go out? And who said he left? 'I told him' no one told me anything, I went to call. ' He did not speak clearly, but there was an expression of disbelief on his face. They were not ready to end the meeting immediately. I understand how they are playing our one and a half day old friend. In fact, he expressed his resentment towards me and those who did not allow him to meet me. I was filled with respect for him. Twenty-five minutes later our meeting thus ended.
It was very heartwarming. Think for a moment about Jagjit Singh, a total of one and a half days they could think so much for a person, but how much they could do for their friends and acquaintances. His types of generosity are not very famous. A heartwarming information on the go. He was an observer of the race course. People used to ride horses, they all know that. But only a few of these people will know that they named many of their albums after their horses after I tell you – various strokes and black magic. Find the rest. On his death anniversary, I remember the lines drawn by him from the movie Shatru – Letter No Message, Know Bah Jati, Where Did You Go?
.